❝
Perfect Solution for Total Knee Rehabilitation
❞
Recumbent Linear Stepper can provide those who want
low-impact
and
full-body
workout.
Keeping you in a stable and stress free recumbent position on lower body joint to reach your workout goal.
1. With very small ROM (range of motion)
2. very low starting intensity
3. very friendly adjustable step length the innovative linear stepping motion is incredibly smooth and easy on your joints.


Contact us via email for more information about Recumbent Linear Stepper!




WATCH VIDEO https://reurl.cc/5rYXRq
James Hsu, the International Business and Marketing Manager
introduce ❝Body Charger Recumbent Linear Stepper portant is ideal fitness equipment for Elder, Total Knee Rehabilitation and All-aged People! ❞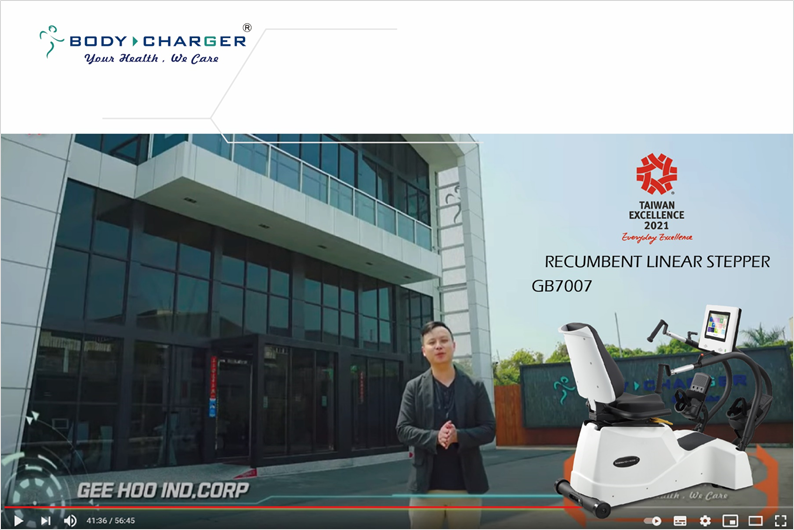 INTRODUCTION
√ 2:1 arm to leg motion is a fairly good correspondence.




√

180゜swivel seat

is easier for the user to get in and out of the seat.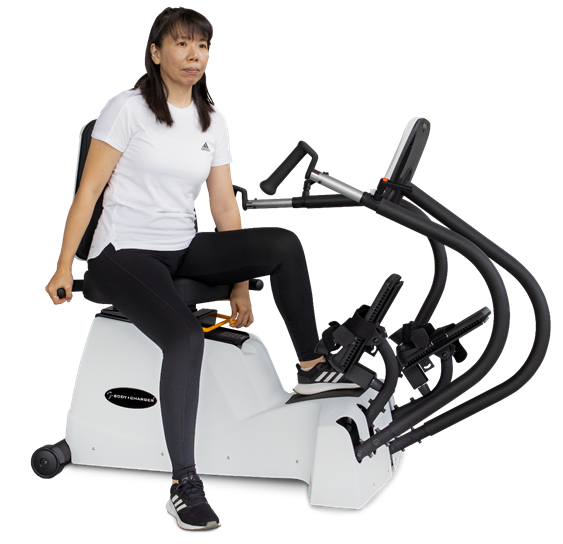 √ Orthopedic foot and heel support footpad reduce the risk of injury, and increase support to weak joints.






√ Transition step platform makes it easy to put your feet in and out of the pedals.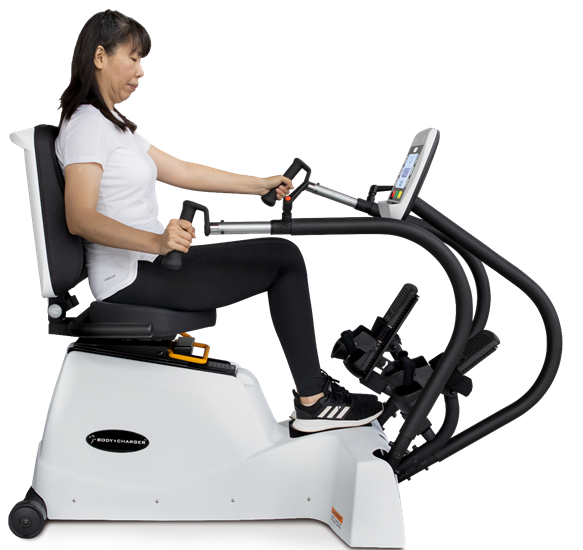 WORKOUT FUN WITH Kinomap and Zwift APPS
FOR A MORE IMMERSIVE EXPERIENCE!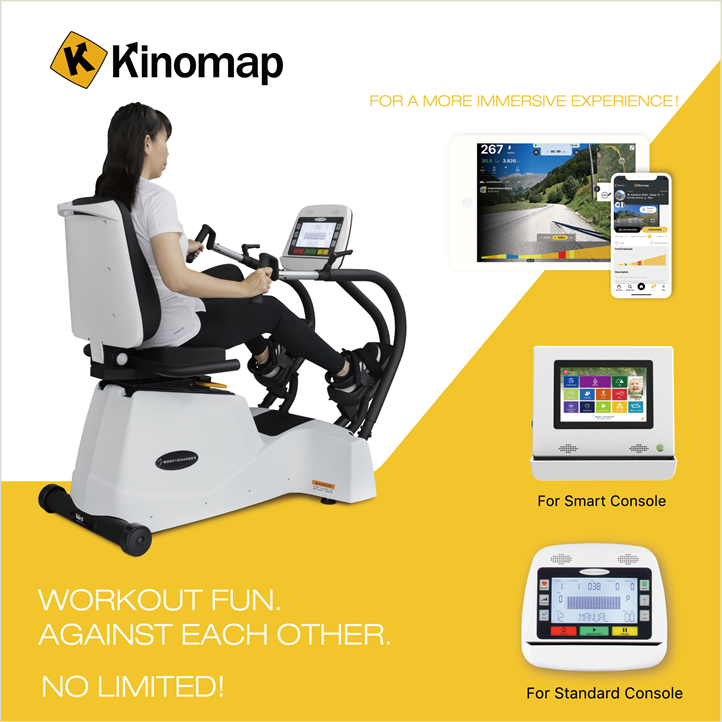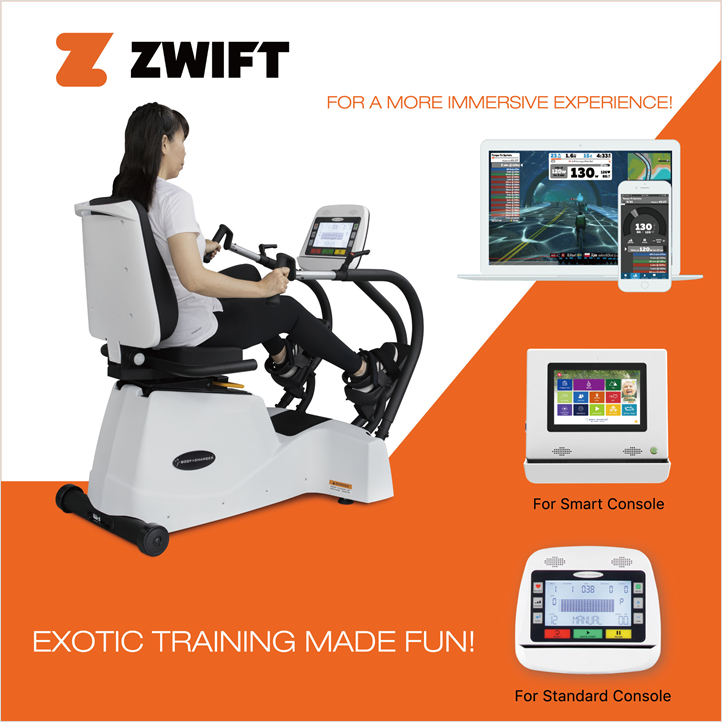 Unique Workout Experience with Smart Console
"Brain Game" workout is an exclusive and theory-based regimen that enhances progressive to optimize the effort user put in. "Brain Game" program provides interactive and engaging software that motives users, especially for the senior people, to improve their motor skills to keep activity of daily living.

Making the general user, senior, rehabilitation, or wheelchair exercisers stay engaged and on track to reach their fitness goals.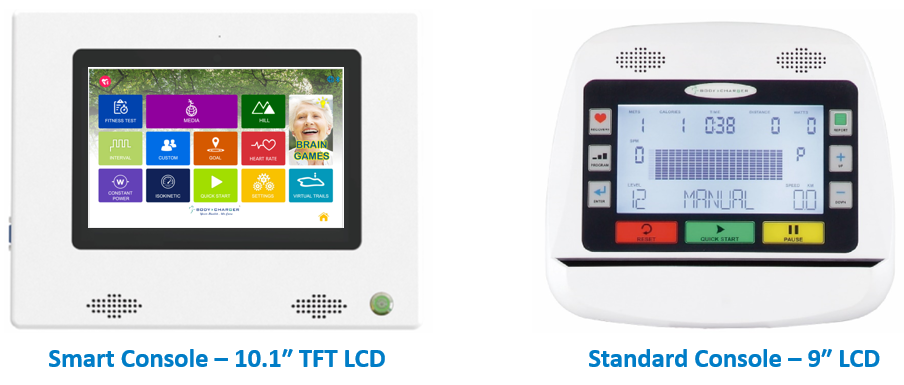 SPECIFICATIONS
Features
Swivel Seat Function
180°
Reclining Adjustment
3 Levles/ 12°
Seat Adjustment
14, Fully Horizontal Adjustment
Handle Bar Adjustment
13 Levels
Pedal Design
Orthopedic Rehab Pedal with Neoprene Supportive Heel Cup
Wheels for Easy Mobility
●
Wheelchair Accessible
●
Energy Saving Mode
●
Certificated
CE
Standard Console
Display Type
9" White Backlit LCD
Exercise Programs
20, Warm Up, Manual, Interval, Valley, Ramp, Mountain, Rolling, Climb, Random, Hill, Fat Burn, Cardio, Strength, HRC (65%, 85%), Constant Power, Isokinetic, Goal (Calories, Distance), Recovery, User 1
Display Feedback
Time, Level, Pulse, Distance, Calories, RPM/ SPM, Watts, METs, Speed
Capacitance Touchable Keypad
●
USB Port
Export Workout Data, Software Upgrade and Charging
Quick Start
●
Pause Function
●
Smart Console
Display Type
10.1" TFT IPS Touch Screen
Exercise Program
16, Quick Start, Hill, Interval, Goal (Time, Calories, Distance, Steps), Virtual Reality, HRC (60%, 80%, Target HR), Fitness Test, Custom, Isokinetic, Constant Power, Brain Games
Display Feedback
Time, Level, Pulse, Distance, Calories, METs/Watt, RPM/Speed
Multi-Language
●
Entertainment System
●
Bluetooth/ Wireless/ NFC
●
USB Port
Export Workout Data, Software Upgrade and Charging
i-Care Function
●
Quick Start
●
Pause Function
●
Headphone Plug
●
RS232 Port
●
Resistance System
Operation System
A. EMS System (Electromagnetic)
B. DX System (Generator)
Resistance Levels
36/ Smart Console
Resistance Levels
32/ Standard Console
Power Requirements
Input: 100-240 VAC ~ 50/60Hz, 1.5A Max
Output: DC30V–2.0A
Tech Spec.
Max. User Weight
181 kg/ 400 lbs.
N.W.
95 kg/ 209 lbs.
G.W.
103 kg/ 227 lbs.
Overall Dimensions (L x W x H)
160 x 80 x 116 cm/ 63" x 31.5" x 45.5"